Owlets
FIFTEEN MONTHS TO TWENTY-FOUR MONTHS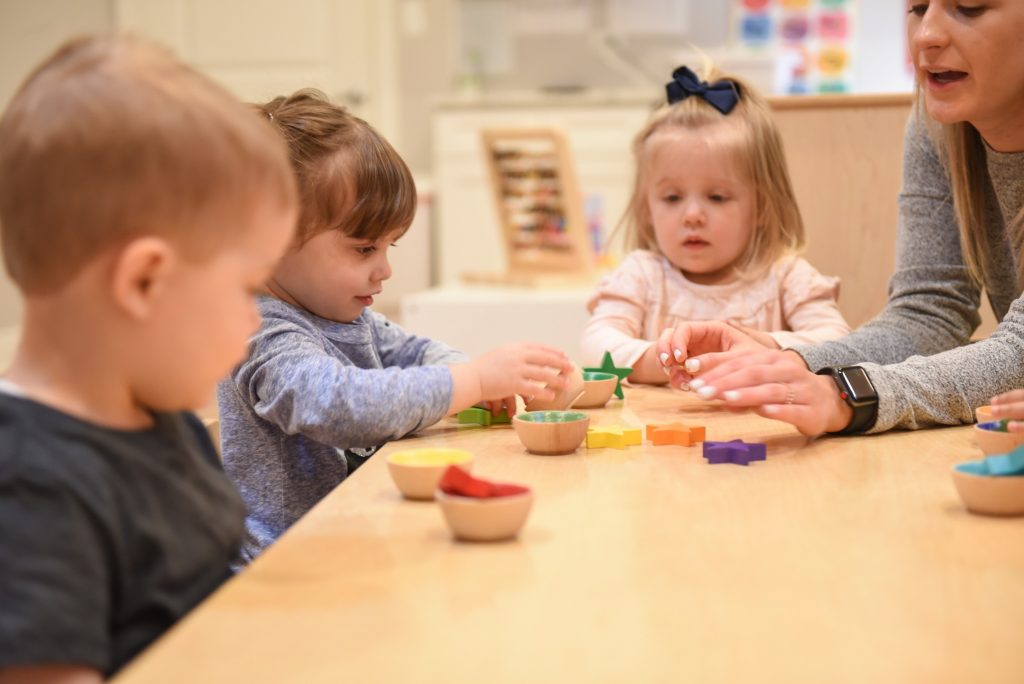 Our toddler room provides a rich environment for children between the ages of fifteen months and twenty-four months. Toddlers are extremely curious and active learners, which our teachers acknowledge and provide an adventurous environment for this age group. The playroom is specifically arranged to promote full exploration, language growth, and social skills. Teachers act as aids to guide free-play time while the child learns to interact with peers, they assist in modeling language skills and helping children express themselves, as well as, they provide a challenge to keep children engaged in activities throughout the day. Our teachers and aids foster all development by enriching their environment with activities and materials needed to explore, learn, and grow in an appropriate developmental way for each owlet.
LEARNING
The brain has so much plasticity, early introduction of the alphabet, colors, shapes, and numbers helps toddlers create new pathways and a strong cognitive foundation. Teachersfoster the language through storytelling and puppetry. Toddlers also transition from the infant room with a strong knowledge of the American Sign Language.
ART
Art is an amazing way for our toddlers to explore and express their individuality and imaginations. Children are encouraged to explore different areas of art, tools, and techniques in order to promote creativity, develop fine motor skills, and begin to understand themselves and the world around them.
MUSIC
Our curious toddlers explore the world in a musical approach at our school. Children enjoy playing instruments, moving rhythmically, and singing joyously. Studies show that language emerges earlier in children who participate in music classes. Our active learners explore their environment in a joyous approach.
NUTRITION
Toddlers are fed according to our classroom schedule. Whole Foods Market creates nutritious and appetizing breakfasts every morning and prepare two organic snack throughout the day, as well as, well-balanced lunches.
TAKE THE FIRST STEP
Little Nest Care is a "second home, away from home"!
SCHEDULE
6:30-9:00 AM        Hand Washing/Drop-Off
8:00-8:30 AM        Breakfast
8:30-9:00 AM        Free Play
9:00-9:30 AM        Morning Meeting
9:30-10:00 AM      Sensory Play
10:00-10:30 AM    Morning Snack
10:30-11:30 AM    Indoor or Outdoor Time
11:30-11:45 AM    Fine Motor Activities
11:45-12:15 PM    Lunch
12:15-12:30 PM    Story Time / Meditation
12:30-3:30 PM      Nap Time
3:30-4:00 PM        Afternoon Snack
4:00-4:30 PM        Gross Motor Activities
4:30-5:00 PM        Art Time
5:00-5:30 PM        Playtime
5:30-6:00 PM        Table Activities and Pick-up
*This schedule reflects our typical day in the toddler classroom
ENROLL A CHILD
We provide high quality care and enriched learning environment