Little Owlets
SIX WEEKS TO FIFTEEN MONTHS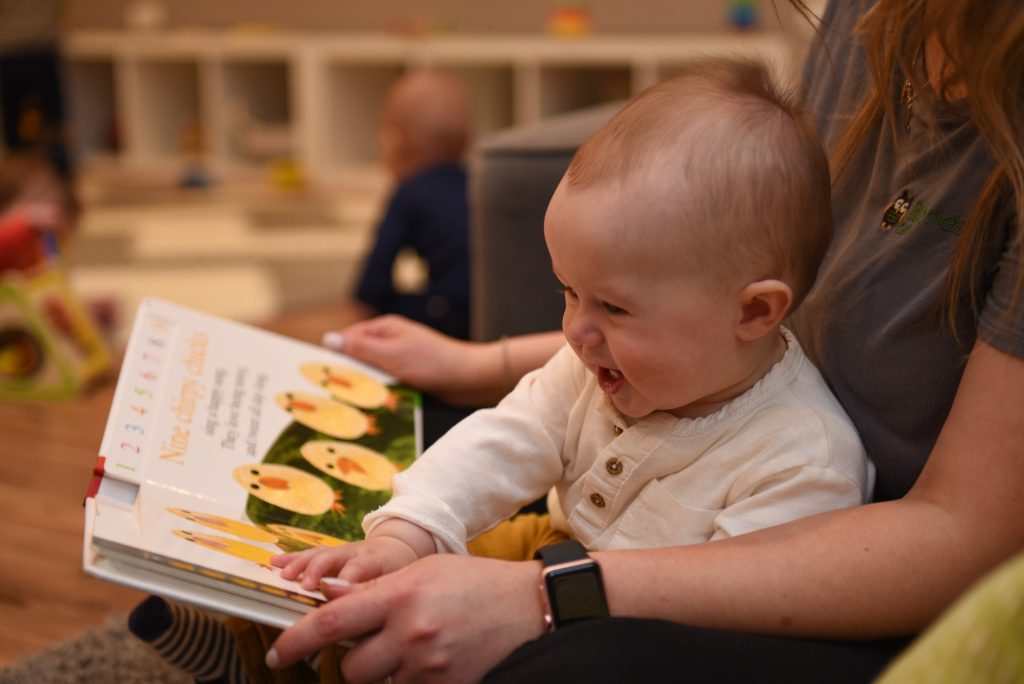 At Little Nest Care, we strongly believe that the early stages of life are complex and crucial for the infant. Providing a warm, home-like environment and a bond between infant and teachers is very important. Our teachers provide by nurturing, cuddling, and attending to each child's basic needs on a daily basis. All of our educated teachers make sure each child has a limitless opportunity to engage in activities that will help them enhance their language, physical needs, as well as, cognitive, social and emotional skills throughout different activities such as: sensory play, music and story time, and much more.
ART
The infants natural curiosity in mind is displayed on a messy art design. Art focuses on sensory development throughout the various textures, as well as, their emotional and social development. Our program focuses on the infant expressing their creativity through hands-on activities to help stimulate all areas of development. Our infants begin to create masterpieces as young as 4 months!
LEARNING
Infants are exposed to colors, shapes, numbers and the alphabet through sensory and hands-on activities to help stimulate cognitive development from the very beginning. Language is implemented through storytelling, sign language, nursery rhymes and infant-teachers cues. Our infants are introduced to many different languages such as French, Spanish, Polish and English through books, songs and games. Our youngest learners begin to form their educational foundation with strong cognitive, social, emotional, physical and sensory roots in our program.
MUSIC
Our program is music-oriented to help promote early language development. Infants are introduced to all types of musical instruments to help with sensory development, as well as, fine and gross motor skills. The emergence of creativity, memory, social interaction and emotional development starts with music in our classroom!
NUTRITION
Infants are fed on personal schedules and based on each individual child's needs. Our teachers will make proper recommendations based on the child's growth and development. Nutrition plays a very important part in the child's development, which is why we introduce our 12 month old infants to whole and organic foods, catered by Whole Food Market.
TAKE THE FIRST STEP
Little Nest Care is a "second home, away from home"!
SCHEDULE
06:30-09:00 AM     Drop-Off
08:00-08:30 AM     Breakfast
08:30-09:00 AM     Free Play
09:00-11:30 AM     First Nap
11:30-12:00 PM     First Snack
12:00-1:00 PM       Gross-Motor Time
1:00-1:30 PM         Lunch
1:30-1:45 PM         Story Time
1:45-3:30 PM         Second Nap
3:30-4:00 PM         Second Snack
4:00-4:30 PM         Sensory Play
4:30-5:00 PM         Art/Music Time
5:00-6:00 PM         Playtime and Pick-Up
*This schedule reflects our typical day in the infant classroom
ENROLL A CHILD
We provide high quality care and enriched learning environment